Nixie Clocks
I love vintage electronics, where the parts are so big you can practically see the electrons moving around. Nixie tubes, with their simple clever design and warm neon glow, were mesmerizing to me. Around them, I wanted to make a beautifully engineered product, the way only something built by its designer can be. Twelve years ago, I designed and started selling the retro-styled 4 tube clock you see on this page. I have since designed other nixie clocks and kits, utilizing different tubes and enclosures, all with the same clean-lined modern aesthetic.
Thank you again for visiting my site. Please e-mail me your questions, ideas or projects at the contact page.
Best Regards,
Peter Jensen
Clocks
Polished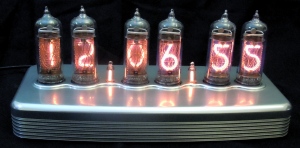 There is nothing that could possibly be on your desk that this clock will not complement or improve upon.

I have received many requests for a clock in this style, and I can not be happier with this result. This clock is milled from a solid piece of 6063 aluminum, and has a weighty heft. It is hand polished and then anodized to protect the surface from scratches, dust and finger prints.

Measures approx. 8" wide, 3" tall, and 4" deep
Weight is 1lb, 11oz, not including the power adapter.
Fully assembled and ready to use.
Brushed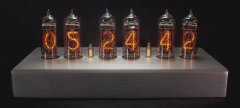 Milled from a solid piece of aluminum stock, brushed and anodized, this is a very substantial piece. It weighs in at almost two pounds, and has a very solid look and feel. It has a clean, simple shape, with beveled edges and buttons hidden on the back. I am very proud of how this has turned out.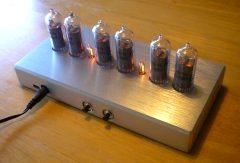 Measures approx. 7 3/4" wide, 4 1/4" deep, and 3 1/4" tall.
Fully assembled and ready to use.
$375
Black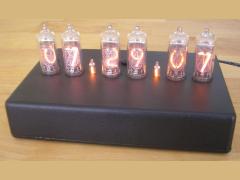 The handsome matte black powder coat enclosure adds a sleek look to the vintage tubes.
Measures approx. 7 1/2" wide, 3 1/4" tall, and 4 3/4" deep.
Fully assembled and ready to use.
$299
Extruded 6 Tube Clock
Be mesmerized as you watch the seconds change on this 6 Tube clock. Six IN12 Nixie tubes display either 12 or 24 hour (military) time.
Measures 6 1/2 " wide, 3" tall and 1 3/4" deep. Weighs approx. 19 oz.

Fully assembled and ready to use.
Please note that this clock requires U.S./Canada standard wall power (120V AC, 60HZ).
RED Bevels are out of stock. Please see Extruded 4 Tube Clock for pictures of colored bevels (below).
Extruded 4 Tube Clock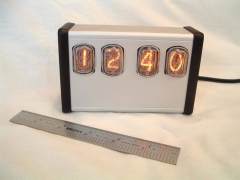 The little clock that started it all! This retro-styled desk clock was the first I designed for sale. Four IN12 Nixie tubes display the hours and minutes in a simple case of extruded aluminum. Fluting along the top and bottom accentuates the simple, straight-lined style. Black bevels protect the edges, and rubber feet on the bottom protect your desk. Setting the time is accomplished simply by pressing the two buttons on the back.
5" wide, 3" tall, 1 3/4" deep. Weighs approximately 12 oz.
Fully assembled and ready to use. Please note that this clock requires U.S./Canada standard wall power (120V AC, 60HZ).
Also available with translucent red, opaque yellow, or translucent blue bevels.
Bare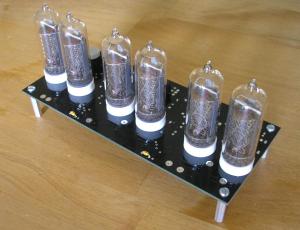 Create Your Own Enclosure!
For those who want to create their own enclosure I also offer the bare IN14 clock.
The clock pictured to the right has no neon bulbs between the nixies, but these are included. The neon spacer bulbs can be removed if desired.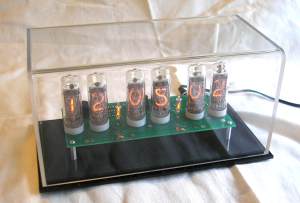 The left hand picture shows the clock in a clear enclosure. This enclosure is NOT included with the kit; however, you can purchase it directly from Cases For Collectibles. It is the 8x4x4 display case with black base. You will need to call them and special order this size, but there is no extra charge. You also will need to drill 4 mounting holes on the bottom, and a hole for the power plug on the back.
Assembled IN14 Clock With No Enclosure: $269
Kits And Parts
Kits and Bits
Please see the Kits page for various build-it-yourself kit options, and spare parts.